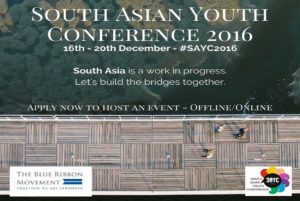 SAYC brings together young leaders in South Asia around the theme of Peace.
Over the last 6 years, we have convened in person and online, weaving a family of rising leaders who are on their way to becoming a powerful force for a peaceful South Asia.
SAYC 2016 is an online-offline event taking place all over South Asia from 16-19th December, with 20th December celebrated as the Day of Solidarity with the rest of the world.
Here's your chance to connect to other young leaders in South Asia. Connectivity brings peace , tolerance , opportunities and cohesion.
So come , lets join hands to make the world's most dynamic and diverse region more connected, loving and peaceful
SAYC has a legacy of giving space to all forms of dialogue and diversities
(We welcome bedroom conversations, not only drawing room ones!)