The Blue Ribbon Movement is an ecosystem of social initiatives building leadership for a better world. It conceptualized the South Asian Youth Conference (SAYC) in 2011.
SAYC held its first conference in IIM-Bangalore, India, with a theme of Peace, as expressed in three levels: peace within, within people and with the environment. The idea was to look at peace not as an absence of conflict but as an actual process in relationships. Inactivity and inertia were seen not as substitutes for peace. Instead, active effort was required to achieve real peace and harmony.
The conference brought together 110 delegates from India, Pakistan, Bangladesh, Sri Lanka, Afghanistan, Nepal, Bhutan and Maldives. The conference welcomed many distinguished speakers- from His Holiness Sri Sri Ravishankar Ranjan Malik, artist and film-maker, Ms. Nisha Agrawal to David Woollcombe of Peace Child International and Gift Economy practitioner Vinod Sreedhar.
The objectives of the conference drew from the broader objectives of SAARC and the UN, and were implemented along these lines:
Developing a global partnership for development (UN Millennium Development Goal #8 and SAARC founding objectives);
Fostering an eco-system of youth-led development;
Create actionable projects and agenda
His Holiness, the Dalai Lama's message to SAYC 2011: "Young people today have the opportunities and the resources , as well as the responsibility to make this 21st century an era of peace and dialogue"
2012:
In 2012, the SAYC conference moved from India to Islamabad, Pakistan. HILA Pakistan, the National Lead Organizer, along with the Blue Ribbon Movement took the conference to the next level. Describe HILA in 1 line.
SAYC 2012 witnessed the birth of the South Asian Youth Coalition – a group of youth organizations committed to building a stronger region. The SAYC thus becomes a focal point for these highly influential change-makers to connect, collaborate and build connections.
The theme of the SAYC 2012 centered on Youth and Peace, Youth and Education and Youth and Sustainable Development. The universal   problem of scarcity and the rapid development is a threat to the scarce resources of the South Asian region and is ultimately a hazard for the future generations to come.
One important outcome of the conference was the consensus of the 96 delegates to create the  ABCD- Action Based Change Declaration- which highlights the steps youth and government have to take to address current socio-political, environmental and development issues. The Chief Catalyst of the Blue Ribbon Movement, Abhishek Thakore, presented the declaration at the United Nations in New York on November, 2011.
The ministers in attendance at SAYC 2012 included Hina Rabbani Khar, 26th Foreign Minister of Pakistan and Faisal Sabzwari, Minister for Youth Affairs Sindh.
2013:
The third edition of the SAYC was held in Kathmandu, Nepal in December 2013. The conference, jointly organized by The Association of Youth Organisations Nepal (AYON), and The Blue Ribbon Movement, India (BRM), brought together talented, enthusiastic leaders along with observers from Malaysia and Germany. Approximately 70 youth leaders from all South Asian countries attended and participated in comprise?? action projects, skill-building workshops, speaker sessions, debates, screening of the documentaries, dialogue, and cultural exchange. The conference included the themes of livelihood development, meaningful participation, and sustainability.
The Association of Youth Organization Nepal (AYON) and the licensee from BRM, (we – BRM –  are the licensee of SAYC )  were established as the working committee's national secretariat. Likewise, an international organization working with youth across the world and with UN agreed to support the conference design and speakers.
The ministers that attended the conference include Honorable Khil Raj Regni, Former Prime Minister of Nepal, and Mr. Ram Kumar Shreshtha, Honorable Minister of Youth, Nepal.
2014:
South Asian Youth Conference was a unique example in organising online. The event was a great success with more than 50 participants joining various sessions throughout the day from even far off locations such as Swat Valley in Pakistan. Apart from keeping the South Asian movement alive, it set an example in how technology can enable a coming together of various grassroots movements without much resources. From gender to security issues, SAYC 2014 created conversations around various topics. The online events were complimented by various offline, decentralised events which people enthusiastically organised in the spirit of solidarity and contribution to the larger South Asian movement.
2015: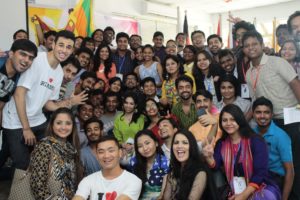 The 5th South Asian Youth Conference, organised from 11-15th December 2015, concluded successfully at the Horizon Campus, Malabe, Colombo – Sri Lanka. SAYC 2015 brought together 77 participants from 8 South Asian countries and 3 observer countries for a diverse cultural experience and to deepen the understanding of South Asian issues.
Read the full report here.
2016: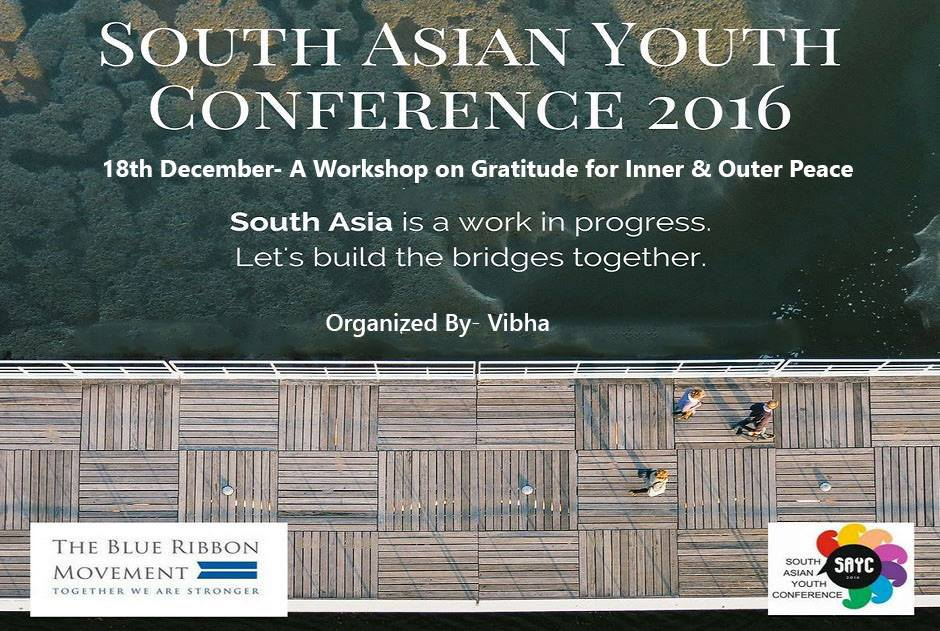 SAYC 2016 was an online-offline event taking place all over South Asia from 16-19th December, with 20th December celebrated as the Day of Solidarity with the rest of the world. There were different topics like the situation of LGBT community in South Asia, Pathways to Peace in Kashmir: a dialogue and many such interesting themes.
2017:
The South Asian Youth Conference (SAYC) Kabul 2017, was a three-day event, which was designed to be dynamic, positive space where 100 plus youth delegates from across
South Asia could interact and exchange mutually-beneficial ideas. It was a platform to allow the youth to showcase and express fruitful cooperation and coordination in promoting peace, equal rights for all, culture and diversity through art and end to all kinds of violence against youth.
All thematic days included workshops, panel discussions, guest speakers and working-groups to cover centric themes of:
1) Art and culture;
2) Gender mainstreaming and its interpretations in South Asian context;
3) Violence and youth.
The three days were packed with different activities from morning exercises, to the impactful reflections, panel discussions, and interactive workshops. The workshops included topics like Art & Tolerance, Mughal Art in South Asia, Cinema & Future Collaboration in South Asia, 50 years of Film & Cinema; "Meeting the violence within me"; Music Against Violence, Afghanistan Needs you, Gender programs in India lesson learned and challenges; and Youth and Violence in India. Besides the workshops and panel discussion, the conference included Mural painting, Kite Flying, Afghan Pop Music, Cultural nights, Exhibition of Afghan Handicrafts and pottery from various part of Afghanistan, Handmade Jewelry by Afghan Designer, traditional Afghan street food and so much more.
Read the final communique here.