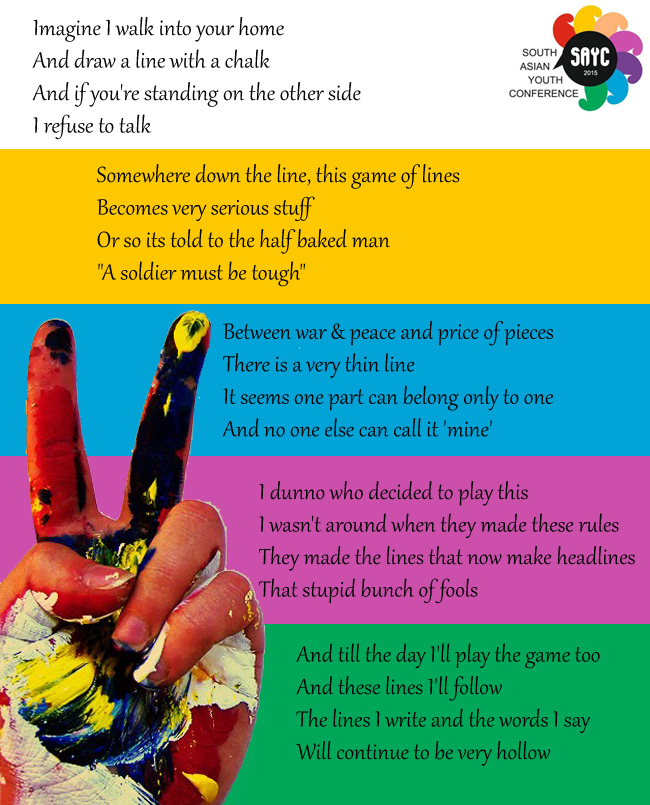 South Asian Youth Conference (SAYC) was born when a group of South Asian youth came together at the 5th World Youth Congress in Turkey. They felt the deep connection of shared culture and history between them. But they also found several unresolved issues, incomplete conversations and possibilities of partnership.
Hence, the need for a space where young leaders converge, discuss and collaborate led to Blue Ribbon Movement organizing the 1st conference in Bangalore. It was a success on many fronts – it managed to get every country in the SAARC region represented. It gave birth to several projects including the South Asian Good News channel and the Mangalore Youth Leadership Conclave. Our Action Based Change Declaration was well received across the globe and finally presented to the UN in New York. It became synonymous with the theme of Peace.
But our biggest victory was personal bonds and friendships. We aim to bring peace and co-operation in the region through 'deep ties' – genuine friendships between leaders who are making a difference across borders.
Who is SAYC for?
South Asian Youth Conference is for young, idealistic, enthusiastic leaders from South Asia. The idea is to meet more young people from the region, listen to the perspectives and struggles of different countries and their regions, understand cultural differences and know each other better.
SAYC is for young leaders who are already working for South Asian region or feel strongly about the cause and would like to contribute to initiatives of fellow participants, ask help from them and also contribute to the larger cause of South Asia. We are consciously not deciding an agenda for South Asia because we believe it will come out of being together in such informal gatherings, listening and understanding what South Asia as a region might need. However, peace building remains a central theme which shall reflect through each conference.
Similarly, we don't want to decide how you should contribute towards the cause. It can be keeping in touch with fellow participants or joining their cause and help create a campaign and summon resources for example. However, we would lke you to be an active part of the SAYC community in the long run.
At the heart of it, SAYC is about celebrating the spirit of South Asia and creating deep friendships. After all, what matters most is how much we shared ourselves 🙂